Many times you've heard about important rule of UX – User Experience. But where you can find source of high quality information to study UX? You're at right place. These are (not only my) top 10 high quality blogs about UX in 2015.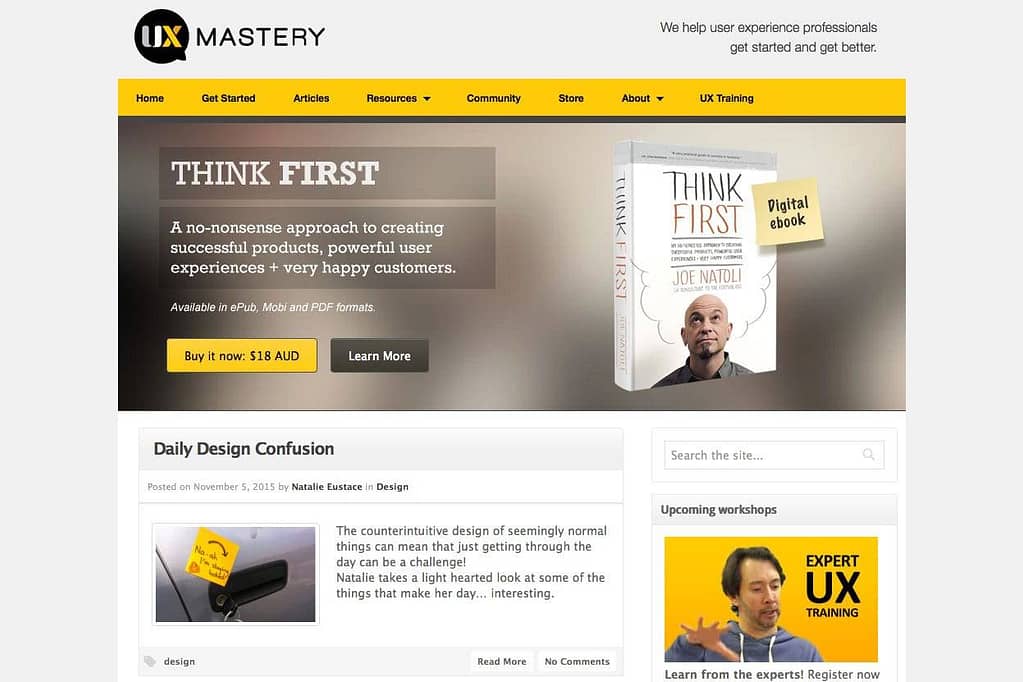 They believe that people are more important than technology. That's why they started this business in the first place—to rid the world of confusing, hard-to-use interactions and interfaces through quality design education. We write articles, ebooks, newsletters, host podcasts, and teach in-person workshops that are fun, practical, and highly regarded by industry. Stay up to date by following Twitter or Facebook, or by subscribing to regular email newsletter.
This site is dedicated to exposing the most engaging topics surrounding user experience, usability, user interface, and web design; it is a place where those, who are passionate about the burning issues surrounding the UX niche, may express their opinions, share their knowledge, or simply absorb valuable content in a laid-back and comfortable manner. They are offer free e-book or stay up to date by following Facebook, Twitter or Google +.
UX Magazine is a free community resource exploring all facets of experience design. We work closely with practitioners and industry leaders versed in all areas of UX to provide a steady stream of engaging and useful content.
As they field continues to grow in size, implementation, and scope, we're putting a premium on resources that explain at how UX fits into technological endeavors, customer experience strategies, project planning, and organizations of every stripe. In partnership with our Design for Experience initiative, we're also working to broaden and deepen the conversations and thinking surrounding user-centered research and design.
Stay up to date by following Facebook, Twitter, Google + or try Newsletter. They also have UX job portal and organize regularly events for UX specialists.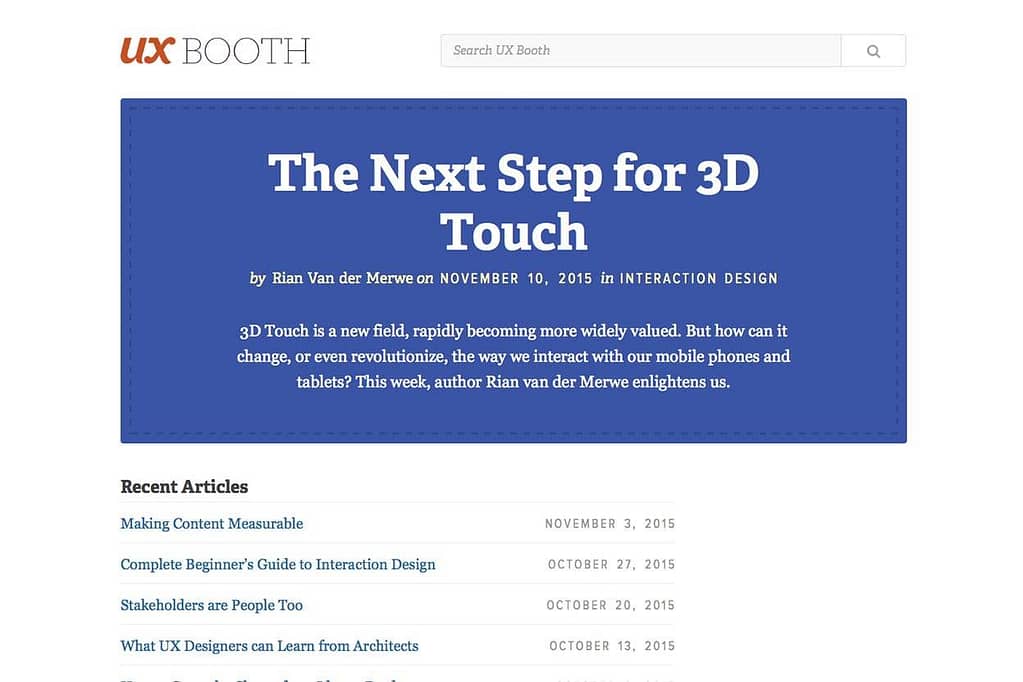 The UX Booth is a publication by and for the user experience community. Our readership consists mostly of beginning-to-intermediate user experience and interaction designers, but anyone interested in making the web a better place to be is welcome. If you're interested, join us and discuss best practices and trending topics, or share your experiences.Stay up to date by following Twitter or RSS Feed.
They've created UX Myths to serve as a reference for site owners and designers. They goal is to provide evidence in user experience design that can help stakeholders move away from design decisions that are based merely on beliefs and personal opinions. But you should still do your own research, check how your design performs. They've collected a lot of research data, as well as facts, quotes and articles from well-known designers and web experts in order to debunk the common web design misconception. Stay up to date by following Twitter or you can and download & print poster to share creator's ideas.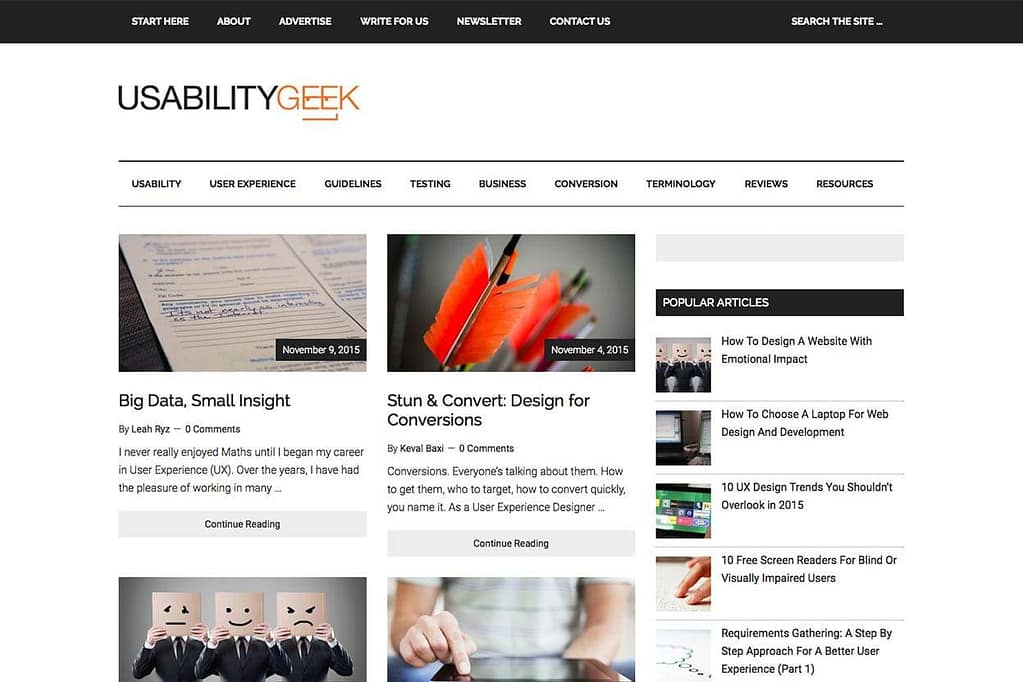 Justin Mifsud, founder of UsabilityGeek started this blog way back in June 2011 as a personal hobby so as to evangelize about the importance of website usability. The whole concept revolved around the idea that although poor usability has commercial and legal implications, I had noted that very few web designers and developers are aware of this. Thus I had created UsabilityGeek as a means to bridge theory and academic research with practical and personal recommendations on how one can improve website usability.
Since then, UsabilityGeek has evolved to cover a wider array of topics that extend beyond usability, such as User Experience (UX), conversion, Human Computer Interaction (HCI) and Information Architecture (IA). Another important development was converting the blog into a platform that accepts guest posts from people who share a common love – that of creating a great user experience. Stay up to date by following Twitter or Newsletter.
UXPin is a design platform that makes it easy to go from static design to fully animated prototypes – without any code. Everyone can comment directly on designs. These guys have really good blog about UX. Stay up to date by following Facebook or Twitter.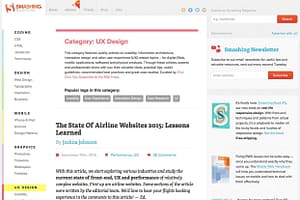 Smashing Magazine delivers useful and innovative information to Web designers and developers. They aim is to inform our readers about the latest trends and techniques in Web development. They try to persuade you not with the quantity, but with the quality of the information they present. Smashing Magazine is, and always has been, independent. Stay up to date by following Twitter, Facebook or RSS Feed.
They help companies of all sizes unlock the power of design-driven product development. InVision gives teams the freedom to design, review, and user test products—all without a single line of code. With intuitive tools for prototyping, task management, and version control, it's your entire design process, all in one place. Stay up to date by following Google +, Twitter and RSS Feed.
Boxes and Arrows is devoted to the practice, innovation, and discussion of design; including graphic design, interaction design, information architecture and the design of business. Since 2001, it's been a peer-written journal promoting contributors who want to provoke thinking, push limits, and teach a few things along the way.Stay up to date by following RSS Feed.